f1Cloud Backup
Access your projects from anywhere and automatically back your files up.


The new f1Cloud storage will automatically

save

Life Tributes projects and associated program files on the web. This means that you can open and manage your Life Tributes projects on any computer that has the software installed.

For example, with Life Tributes f1Cloud storage you can start a Life Tributes project at the office, and finish it at home. You can even start a project on your computer, and have a colleague to finish it up on theirs! Plus, you'll save storage space on your machine.

Features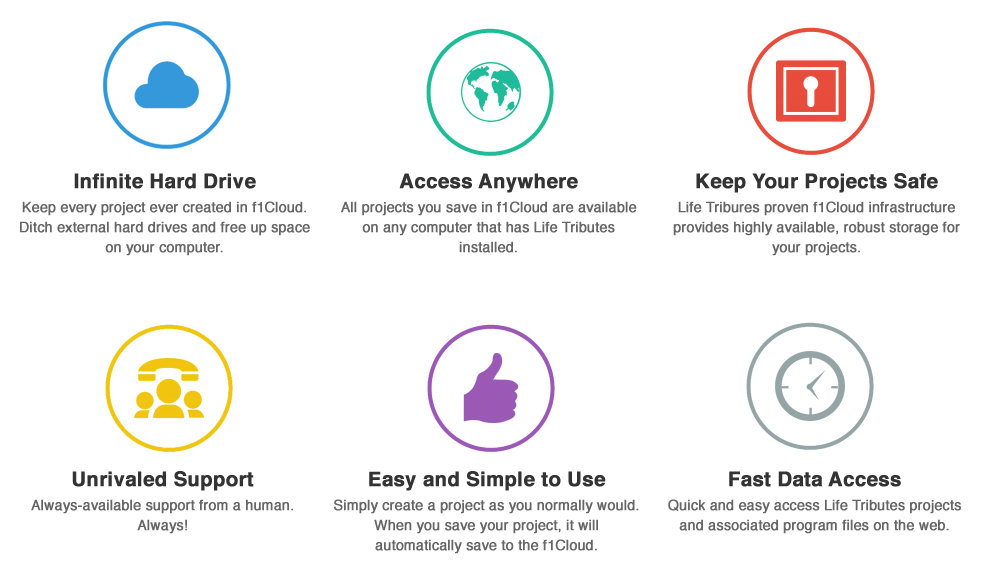 How to Get Started
To try out our revolutionary cloud storage, simply sign up for the f1Cloud plan that is more convenient for your usage. It's risk free. You have 30 days trial. Once you subscribe, create a Life Tributes project as you normally would. When you save your project, it will automatically save to the f1Cloud.

To access your project on another computer, simply log in to Life Tributes and you'll see your project under "Edit an existing Life Tribute." *All projects that are saved on the cloud will display a cloud icon to the right of the project description.
If you need additional help, please call our Epic Support team at (800) 798-2575 ext. 4.