Life Tributes has three quality settings for live webcasts that will make it possible for almost anyone to stream.
You need an internet connection with an upload speed of at least  256 Kbps (.25 Mbps), 512 Kbps (.5 Mbps), or 1 Mbps, depending on the quality setting you choose.
It is important to make sure your live stream doesn't experience interruptions, so you should choose the best quality setting that will result in a reliable stream based on your internet connection.
Here's How to Determine Your Internet Connection's Upload Speed:
Go to speedtest.net
Select Single
Click "Go" and let the test run
Take note of your Upload Speed, which is the most important for webcasts
How To Choose the Appropriate Video Quality Based on Your Internet's Upload Speed: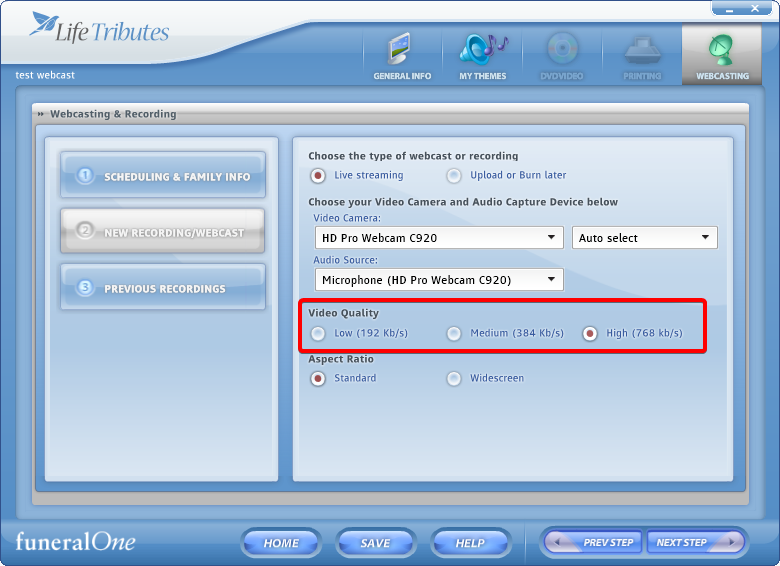 You will be prompted to select your Video Quality in the NEW RECORDING / WEBCAST section in Life Tributes.
Select the highest quality setting available based on your upload internet speed. Below you will find our recommendations based on your speedtest.net results.
| Upload Speed | Recommended Video Quality |
| --- | --- |
|  > 1 Mbps | High |
| > .5 Mbps | Medium |
| > .25 Mbps | Low |
Important Considerations
Your upload speed may vary throughout the day, depending on network congestion and on how many devices are sharing your internet connection.

For example, if you have a 1 Mbps upload speed you'll typically be able to stream in the High Video Quality setting, but if on the day of the service you allow your guests to connect to your Wi-Fi, you might have to reduce the quality of the webcast to Medium or even Low to avoid interruptions.
Here are a few ways to avoid this challenge:

Encourage attendees to power down their mobile devices during the services
Consider recording the webcast and uploading it to the web at a later time
If your network infrastructure allows it, consider setting a QoS (Quality Of Service) policy to prioritize RTSP traffic or reserving bandwidth for the computer that will stream the webcast.