Since your company already has a Page on Facebook (if you don't have it yet, you should create one now. Find Out How), you know that sharing gated content on social media is a great way for your company to generate leads.

Social media is great for creating meaningful relationships with your customers. For example, when you share Tributes on your Facebook Page, social media will allow dialogue with your community, therefore creating relationships with customers before, during, and after the services you are providing to each family. This kind of dialogue between your company and your customers is something traditional advertising will never achieve.

Whenever you post content to your Facebook Page, it will appear in your Fan's news feed. Facebook reports that the average user has 130 friends who can also Like the item once it's published. That means, depending on the number of fans you have multiplied by the number of friends they have, your content could achieve wide viral syndication. That can lead to increased traffic to your Page as a result.

One of the best benefits of social media for business is using it to increase your website traffic. Not only does social media help you direct people to your website, but the more social media shares you receive, the higher your search ranking will be.

The Tributes you share are one of the most meaningful content to share on your Facebook Page. So we are giving to you a very powerful tool to share your Tributes automatically, in a very easy way.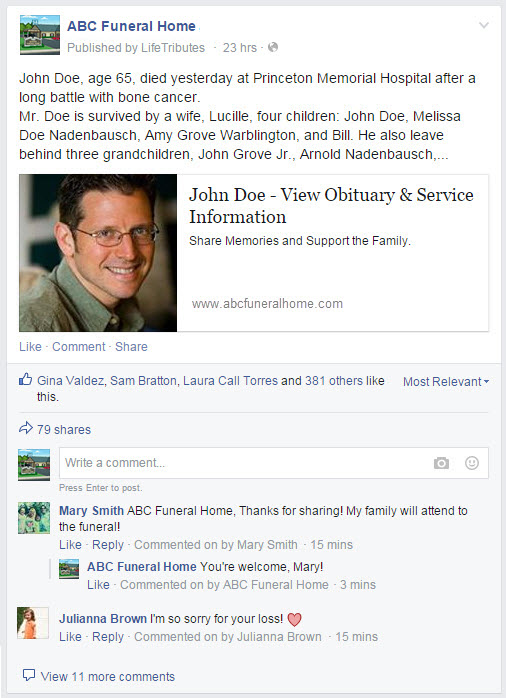 All you have to do is execute this super simple process once, and your Memorial Websites will be integrated with your Facebook Page. You will have the ability to manage and control Tributes that you want to share and the ones you don't.

Here is how you start:
On the "Create At Need" page in the One System, right after the Obituary and Service Information, you will see a new section called "Social Sharing". All you have to do is to click on "Enable Social Share App Now".




Login on Facebook with an user that is associated with your Facebook Page, and click on "Ok" on the Facebook interface to allow our app. Don't worry, nothing will ever be posted on your personal Facebook account. You will be connecting your company's Facebook only with the One System.





You are all set!. For every new tribute created, the Social Share option will always be checked by default, and you can uncheck if you need.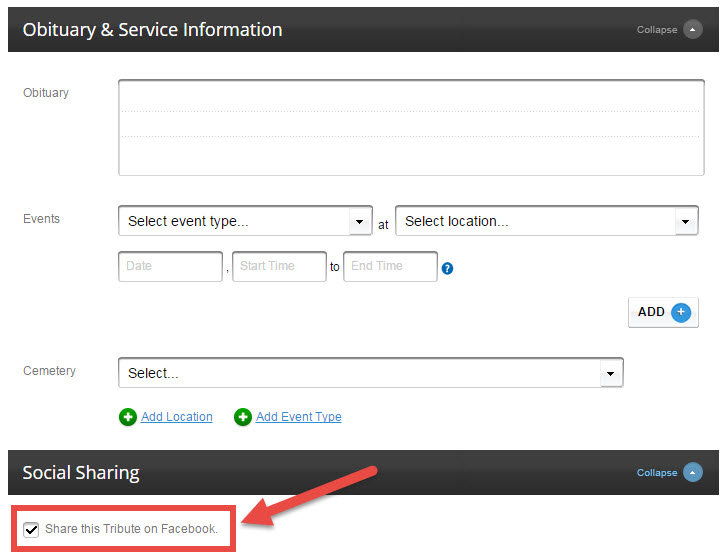 Additional Help:
My Facebook user is associated with multiple Facebook Pages. How do I make sure my Tributes will be posted on the right page?
If you are an administrator of multiple pages, our app will ask you which page you want to connect to our app. Select the desired page and click "Confirm".


The app is telling me that my user is not associated with my Company Page. How do I share our Tributes automatically on Facebook?
To be able to use our app to share tributes automatically on social media, your Facebook user has to be an administrator in your Company Facebook Page. Ask your colleagues to make your user admin or ask one of the administrators to authorize our app. Because our app only requires a one time login, you only have to use a Facebook login once.


How to disable the Social Share App?
Disabling this app it's as simple as enabling it: On the At Need tab, click on Settings. You will see the Social Sharing section there and all you have to do is to use the switch to turn it off.