Sometimes a family might not want their loved ones tribute visible to the public, only to trusted family members. To learn more about Private Tributes, view our article. This article will walk you through, step-by-step on how to set up a Private Tribute.
Step 1
Log into https://one.funeralone.com
Step 2
Click create at-need (on the left sidebar)

Step 3
Fill in your info for name, dates, serving location, obituary text, services, and cemetery as you would normally.
Step 4
Under "Connect your Community with Social Sharing", uncheck that (we don't want the community to see it).
Step 5
Fill in Family Address if you like, this is optional and will only affect that people can select to send gifts to the family's address instead of to the funeral home if they buy from the Sympathy Store.
Step 6
Add any photos or videos you want under the Photos & Videos section.
Step 7
Under Family Administrators, pick either "By Admin" or "Automatic" under approval type. For more information about approval types, see our Family Administrator How-To. Pick "Private" under Tribute Visibility. In the Administrator field, please type your email address and click add. You may also do so for any family members you know will want to view the tribute or send it to them later. You will receive an email with a link to the tribute.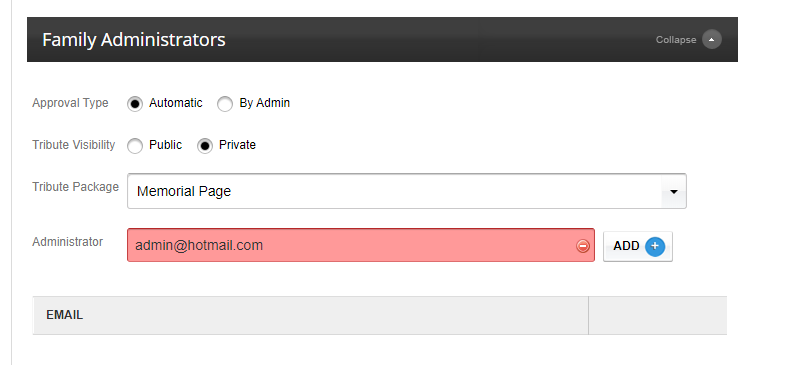 Step 8
Under Life Tributes Software, add any tribute video, webcast, or related.
Step 9
Click submit.
Step 10
In an email you will have received a link to the tribute you created. Use this to forward or copy and paste the link into a new email and send to your family.